Speech Coaching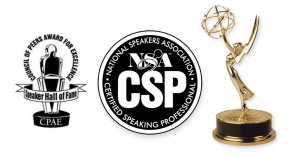 Having presented more than 4,000 keynotes and recognized as one of the top speakers in the profession by the National Speakers Association's Hall of Fame (CPAE – Council of Peers Award of Excellence), Emmy® Award winner, Mark Scharenbroich has also mastered the gift of helping companies, leaders, and other professional speakers improve their speaking skills.
Company-wide Speech Training
Mark provides a solid speech training experience for any company, organization or group that wants to create a consistent and effective message, style and delivery on the platform.
Individual Leader Coaching
For individuals who need to hone their presentation skills to their internal teams or clients, Mark offers one-on-one coaching on delivery techniques to develop consistently powerful presentations each and every time.
Individual Professional
Speaker Coaching
Mark and his business partner, Susan (producer, co-writer and director for every presentation Mark delivers) "double-team coach" individual professional speakers — either virtually or in person — to create, craft and deliver fantastic keynotes.
KEYNOTE KAMP | Annual Workshop Retreat for Professional Speakers
Keynote Kamp
Helping good speakers become great, and great ones get even better!
Each December, Mark teams up with his wife and business partner, Susan, and fellow Hall of Fame speaker, Eric Chester, for their annual Keynote Kamp workshop held in Denver, Colorado. Limited to 20 professional speakers, Keynote Kamp is an intense and transformational multi-day deep dive into the art of speaking.