Recently, I had the privilege to speak for 3M and soon thereafter, received a wonderful letter from one of the conference attendees. As you'll read, she and her co-worker, Suzanne, took the Nice Bike message to heart and began to touch the lives of a number of people — starting with some on their plane ride home! I hope you enjoy this blog post from Janet Frazier with 3M Infection Prevention.

Nice Bike, Janet … and Suzanne! 
Dear Mark,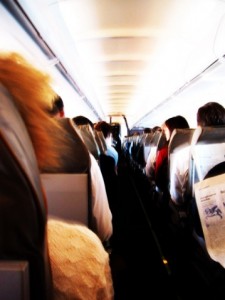 I read your book on the airplane last night while returning home from our 3M Infection Prevention Division national sales meeting. (FYI: for the average reader, your book can be completed on a non-stop flight from St. Paul to Charlotte, NC, provided there is not a bathroom break. I finished the final pages as we taxied to our gate.)
As you know from a life of flying, most people, in general, are not at their friendliest best when trying to get off the airplane on a late flight home. While we were all standing and waiting for the forward rows to disembark, a man from a couple of rows ahead began to work his way back to a luggage compartment several rows behind us. This is not an easy task while the aisle is full of people not wanting to give up any real estate. We soon observed that he was retrieving items for an elderly woman who had been seated next to him. After considerable difficulty, he accomplished his mission. Having just completed your book,  I was feeling particularly happy, so as he passed by me to deliver the items to the woman, I reached over and patted his back, saying, "nice man." Several other passengers around us nodded their heads and voiced their agreement.
Once I arrived inside the gate, I stepped aside to await a fellow 3Mer who had been seated a few rows back. Suzanne appeared with another woman, saying, "Janet, I want you to meet Theresa. This was Theresa's first time on an airplane, and we're going to help her find the concourse for her connecting flight."
I soon learned that Theresa, who appeared to be somewhere in her middle-age years, was not only flying for the first time, she was moving from Minnesota to start a new life in Atlanta. She planned on opening a beauty salon.
It was obvious that Theresa was nervous about her entire experience, including the adventure ahead. When we brought her safely to her concourse, and pointed out the various options for catching a meal, she asked Suzanne and me whether we were best friends. Suzanne and I paused a second, because we have only known each other since the Arizant to 3M transition, and have only worked together a few times. We looked at each other, smiled, and said, "yeah."  Hey, you never know.
After parting from Theresa, Suzanne told me that she asked Theresa if she was going to get some dinner before her next flight, and learned that Theresa didn't have any money for food. Suzanne quickly remedied that. Upon hearing this, I thought to myself, "Dang.  Suzanne out-Nice Biked me. Okay, going forward, game on."
Mark, in my 32 years with 3M, I have heard my share of motivational speakers and business coaches. I've learned how to find the compelling event, paddle a boat, and become the challenger rep.  What hit me about your message is that it is stuff we already know; it's just that it sometimes gets buried and neglected in the day to day grind.  Like a muscle not being used, it wastes away. At the 3M meeting on Monday, I heard dozens of my peers exclaim that yours was the best presentation they have ever seen/heard. Even some of our hardcore, longtime, "never see any value in motivational presentations" reps. You have a gift for sharing examples of how using the "acknowledge, honor and connect" techniques can improve our lives in work, and at home.  I'm just starting my list, and my first goal is to "Nice Bike" someone every day. Thanks for the presentation, the book, and your message.  Nice Bike, Mark.
Best regards,
Janet Frazier | 3M Infection Prevention