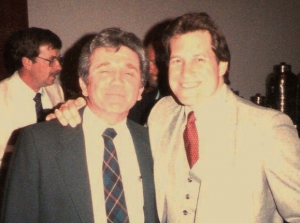 If you've heard one of my keynote speeches or read my book, Nice Bike, you'll remember one of my favorite stories is about a shop teacher I had in high school, Leroy Radovich.  Leroy taught me to be intentional: When people ask "How are you doing?" don't be robotic, instead, be intentional and answer "I am doing great!"  It's a key takeaway of the Nice Bike presentation. And it prompted a recent letter from Michael Doyle, which I am happy to share with his permission. Nice Bike, Mike! — M.S.
---
Dear Mark,
Your "Great Day" story about your teacher rings a bell with me. About 12 years ago I was at the National Athletic Trainers Annual Conference in St. Louis MO. As I was walking out of the hotel I asked the doorman how his day was and he replied "I'm living the dream". It almost stopped me in my tracks. As we were a few paces down the block I turned to one of my colleagues and said "if that guy's living the dream, so are we!"  
Ever since that day my response to 'how is your day going?' is "living the dream, GREAT, fantabulous or outstanding!".  I did thank the doorman the next time I saw him for making my day. I agree with you full heartedly on setting a positive tone.
I hope you continue to live the dream and keep encouraging others to do the same.
— Mike
Michael S. Doyle, Administrative Director
Heartland Orthopedic Specialists, Alexandria, MN